Zeitquartier – Apartments for international guests 
We start the new business year not only with momentum and optimism but also with an expansion of our service. From now on we offer our entire apartment offer also in English language. This way we can quickly, directly and professionally present our international customers with the right temporary home in the metropolis.
International travel in Corona times
With this we set a sign especially in the troubled Corona times. Because even if traveling becomes more difficult, we experience that there are still many good and important reasons for a longer stay in our region. In the private sector, for example, it is the new job or the beginning of studies, and many people from abroad come for health reasons for a longer period in our region. Especially when outpatient therapies at specialized and internationally recognized clinics such as the WPE are required, a stay in furnished and well-equipped apartments is a good option.
The business travel market will also continue to revive. Expats and specialists from abroad, of course also from the craft sector, will continue to be needed locally. Personal commitment can simply not be replaced in all areas by an online conference.
If you are planning a trip or a longer stay to Essen, you should opt for an apartment instead of a hotel in times of pandemic.
The advantages are obvious. Here are just the most important ones:
Simply because of the size and number of rooms, spaces, elevators and shared facilities, you will inevitably have many more contacts in hotels, which carry a fundamentally higher risk.
This is especially true in buffets, dining rooms and restaurants. In your own temporary home, you can cook and cater for yourself.
Of course, in your "own" apartment you will also have cleaning materials at your disposal, so that in addition to the professional cleaning services provided by your landlord, you can take care of hygiene yourself and know that no one but you has used the rooms.
Furnished apartments are therefore not only "safer" than hotels, they also offer unbeatable cost advantages with more space and privacy – especially for a longer stay or if you are traveling with your family or several people.
Landlords offer security
Of course, our landlords have also responded to the Corona situation. Our guests can rest assured that the highest standards of hygiene will be maintained. In these troubled times, when travel is difficult to plan and circumstances and conditions change quickly, it is important to have landlords who offer flexible cancellation policies and accommodating cancellation options.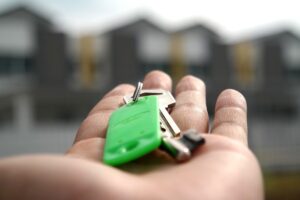 The feeling of security and transparency is especially important for people from abroad. We now live up to this by offering our services in English – including, of course, personal advice from our customer service team. We look forward to your call. If you have any further questions, you are also welcome to contact us via our contact form.