In the event of an (insurance) case – furnished living on time
Unexpected often comes. Unfortunately, it happens again and again that the emergency occurs and the own or rented apartment becomes uninhabitable for some time. In addition to the damage that one has to cope with, there is a lot to regulate and organize for those affected; be it with the landlord and/or the insurance company. And this in a situation in which one's own nerves are usually on edge.
We cannot take over the dispute with the landlord and the insurance company. But in any case we are there for you when your own four walls are uninhabitable. In such a situation, a temporary move-out is advisable and often unavoidable.
Temporary living – a flexible and short-term solution
In this case, temporary living is a short-term and maximally flexible interim solution. You stay at your place of residence, come to rest in a relaxed atmosphere and can take care of the damage in peace. Many of our temporary tenants appreciate the fact that our "temporary quarters" are fully furnished and equipped with everything you need to live. Due to the inclusive rent, there are no additional costs for our customers. No contracts with electricity or internet providers are required. So you have full cost transparency. An important requirement not only for your own calculation, but also a prerequisite when you settle these expenses with the insurance company.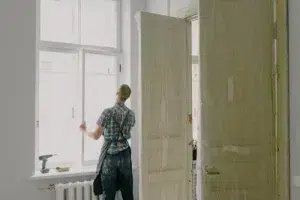 In your temporary home, you and your families can continue to organize your everyday life as normal. Through our extensive range of apartments in all sizes and in all districts in Essen, we are sure to find the right temporary home for you. This is important if the way to work should be short or if children have to go to school alone.
By the way, our temporary furnished apartments are also ideal if you want to renovate, modernize and convert your apartment. From your second home you can control these measures in peace. Just as long as the renovation measures take.
Temporary furnished apartments in Essen – the flexible, short-term alternative if your home is uninhabitable for some time. We are happy to help. Please feel free to call us.