Living trends 2022: flexible living and working
Before the pandemic forced us to stay more or less indoors, we spent much of our time at off-site workplaces. Since Covid, everything is different. As our lifestyles change, so do our spaces and furnishings. This applies to our own home – but also to our temporary home away from home.
Modular furniture adapts
Our way of living and working is becoming more and more flexible, and as a result, so is our furniture, depending on the situation, what we need and want at the moment. Modular furniture that expands, shrinks or adapts to a wide variety of environments is in demand. The living room is no longer just for relaxing, watching TV and chilling out, but it must also be able to transform into a study when in doubt. Work and life are merging. Living with multifunctional furniture means, for example: A shelf becomes a partition, a sofa becomes a bed, a table becomes a desk. As we increasingly work in a home office – the home experts call it "hoffice" – the challenge for many is to find a way to separate work and private life.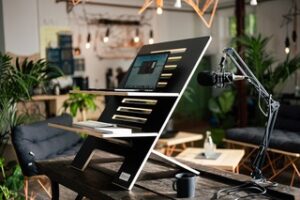 A trend that continues is the renaissance of the kitchen. The kitchen as a central place of gathering has been decisively strengthened by the Corona crisis. This is also reflected in the industry's sales: with an increase of almost 5%, the kitchen furniture industry is the clear frontrunner. Clearly recognizable, according to a recent study, is the desire for a pantry that conveys a sense of security according to the motto: to be prepared for all eventualities. In this context, the comeback of the pantry is predicted. The open-plan kitchen, on the other hand, which has been so popular up to now, is on the retreat. In many cases, home office also means that you no longer have to commute and can use the time to cook. Cooking is the new commute, so to speak.
Movable partitions and retreats are becoming increasingly popular under home office conditions. Those who work from home need more space or clever solutions to separate their personal life from work. And that's true for any household – whether single or a family of several. Especially when several people have limited space and are at home at the same time, it is important to create oases where you can work in peace, but also simply switch off and retreat.
But of course there are still enough good reasons and necessities to work away from home. Our landlords have already adapted to the new needs in many cases, which will remain after Corona. An additional desk, faster wifi, a larger table, a sofa that can be transformed into another cozy bed in a few simple steps – all this and much more is flexibly implemented by our landlords.
Your suitable home away from home
Our landlords and we create the right setting for you to work, live and feel at home. Whether you are traveling alone or with your family or colleagues. We offer over our online platform the right living arrangements for every need. Together with you, we will find the apartment of your dreams.