These 14 living trends await you in 2021
After a year in which, due to the pandemic, many things turned out differently than we all imagined, we still want to venture an outlook and present the most important living trends in 2021.
We have looked around on the various online portals on the subject of living and picked out the 'must haves' for you.
Trend 1: Wood
The theme of nature and naturalness will continue to define our living this year. With wood in the living area or in the kitchen, but also in the hallway or bathroom, you belong to the trendsetters.
Especially light wood types make even the smallest apartment a real oasis of well-being, without smothering. Combined with plants, you thus emphasize the natural ambience.
Trend 2: The classic sofa
Clear shapes and classic uppers are making their way into living rooms. The classic leather sofa in particular is celebrating a renaissance. You can set the right contrast to light wood with dark tones.
So-called modular furniture is suitable for smaller apartments, where you can determine the size and shape of your seating furniture yourself using the online configurator. It's also easy on the wallet.
Trend 3: Sustainability
Sustainable living also fits in with the naturalness trend. Upcycling and vintage are the buzzwords here. With one method, you create a completely new eye-catcher from parts of an old piece of furniture. Or vice versa, you turn new parts into an old treasure just like in grandmother's day with a few brush strokes. This creates a varied mix of modern and old.
Trend 4: Pictures as a focal point
Some time ago, walls turned into entire photo albums, countless small pictures embellished the room. This year, the focus is on fewer pictures, but big. Less is more.
Trend 5: More depth
This is a trend from Scandinavia – keywords: minimalism and transparency. This works great in both small and large rooms. Furniture gives the whole room more transparency through built-in glass elements. And: glass forms a fitting contrast to wood.
Trend 6: Holiday feeling
Mediterranean living often referred only to the bathroom. This year, we are also seeing Mediterranean accents in the living room and bedroom. A colorful mix of red, blue and white combined with symbols such as anchors or fish will put your home in the vacation mood.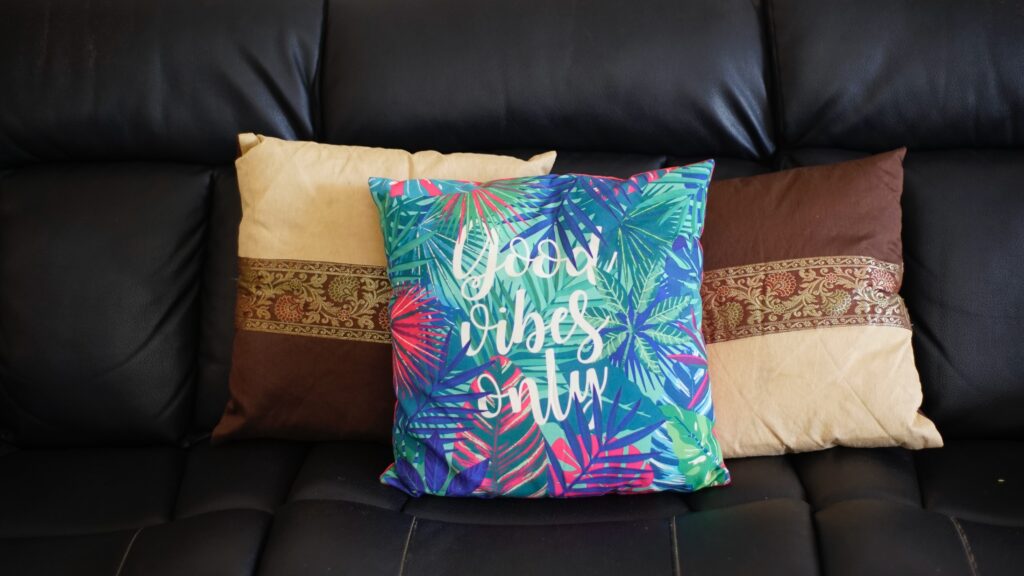 Trend 7: Special fabrics
While patterns and designs of fabrics used to dominate the picture in living rooms, special fabrics such as velvet are very much in vogue this year. Leather and cotton can also be combined with them in a great way. Find your own mix.
Trend 8: Country house
The country house style also goes in the direction of natural living. Especially in the city, it simply makes a good mood to get a little country feeling in your own four walls. In terms of color, it does not necessarily always have to be beige or brown, but a combination of white and red also spreads a little country flair.
Trend 9: Spatial style breaks
Maybe not for everyone's taste, but furnishing rooms in different styles is another trend this year. The bathroom more rustic and in the living room more minimalism? Something like this brings excitement into the home.
Trend 10: Hanging instead of standing
Not only in small apartments you can create a certain harmony in the room by hanging elements. But: Use this stylistic device for your decorative accessories carefully, otherwise an apartment quickly looks untidy.
Trend 11: Round shapes
Corners and edges set clear structures. Round furniture, on the other hand, creates a harmonious impression. Glances can thus linger longer. Especially sofas and tables appear this year with a certain swing.
Trend 12: Colorful bathrooms
For years, many bathrooms exuded the air of hospitals. There is a lot going on here in terms of color this year. And it's not just about the walls. Colorful towels or other colorful elements and, of course, plants make the bathroom a true oasis.
Trend 13: Subtle colors
Pastel colors are celebrating a resurgence this year. Subtle colors on the wall cleverly set the scene for garish pieces of furniture – properly combined. In addition, pastel elements go well with white walls and light floors.
Trend 14: Dare to decorate more
An apartment only gets its flair from the matching decorative elements. Accessories are not dust collectors, but tell – well staged – an exciting story. Deco no longer has to be taboo, even in the bathroom or kitchen.
Your cozy home away from home
Through our online platform, we offer the right living styles for every taste, modern, vintage or country style. Perhaps you are also looking for a quiet place in times of pandemic to be able to work concentrated and at the same time comfortably in your home office.
Contact us. Together with you we will find your very personal dream apartment.