Summer time – travel time
A trip to the Ruhr region, especially to our hometown of Essen, is always worthwhile – whether for business or pleasure. But where and how to find accommodation? Of course, preferably in a suitable ZEITQUARTIER.
Summer is here and with it the vacation season. Many people use this time to travel and discover new places. But sometimes you don't have to travel far at all to have great vacation experiences. There is also a lot to discover and experience in our region. The former collieries and steelworks have now become modern cultural and leisure destinations, offering a wide range of activities for all tastes and ages.
One highlight in the Ruhr region, for example, is the Duisburg-Nord Landscape Park. On the site of a former steel mill, you can now go climbing, diving or simply enjoy the impressive industrial scenery, and the Gasometer in Oberhausen with its varied exhibitions is also well worth a visit.
Especially for those interested in art and culture, the Ruhr region offers a great variety. The Museum Folkwang in Essen houses an impressive collection of paintings and sculptures.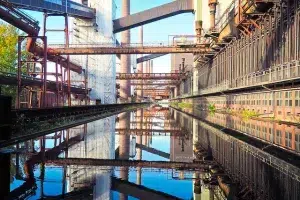 For nature lovers, there is much to discover in the Ruhr region. Lake Baldeney in Essen offers numerous water sports and invites you to go for a walk or a bike ride. Lake Kemnader in Bochum is a popular destination for families and offers a large playground as well as opportunities for sailing and surfing.
So the Ruhr area has a lot to offer and is definitely worth a trip. Whether you want to experience cultural highlights, enjoy nature or just relax – everyone will find the right offer here.
Furnished apartments – the right alternative for private and business trips
Summer is not only the time for vacation, but also for professional travel. Whether it is business meetings, conferences or projects, sometimes you need to work for a certain time in another place. In such cases, furnished apartments are an advantageous solution over traditional hotels or long-term leases. First of all, they offer a flexible solution in terms of rental period and secondly, depending on the budget, one has suitable equipment. A fully equipped kitchen, a bathroom, a living room to relax and some also with a working area or a nice balcony.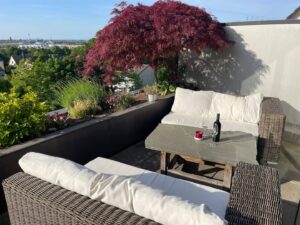 Furnished apartments have more space than a hotel room. You can spread out and feel like home.
Another important aspect is the cost. Furnished apartments are often cheaper than hotels, especially for longer stays. You not only save on accommodation costs, but also on meals, since you can cook in your own kitchen. Furthermore, there are often no additional costs such as parking fees or internet access, as these are usually included in the rent.
Overall, temporary furnished apartments offer a practical and cost-effective solution for both professional and personal travel in the summer. They offer flexibility, comfort and privacy at an affordable price. It's worth it – check out our website right now or give us a call and above all, have a wonderful summer.