Living trends 2023 – minimalist, natural and flexible
Furnishings, ambience and equipment of temporary furnished apartments must be functional and meet the needs of mobile people, but also the taste of the time. In this regard, furnishing trends reflect the changes in our way of life and changing requirements. Here are some of the hot home trends for the current year.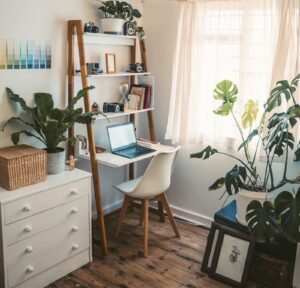 Multifunctional – The past two years have shown it. The home – even the temporary home – often has to be a workplace as well as an oasis of peace. The available space and the need to separate the living areas from each other must be taken into account. Intelligent and flexible solutions are required here. That is why multifunctional furniture is becoming increasingly important. Not only does the TV find its place in the living wall, but also a small work area and a fold-out seat. By the way, the good old serving trolley is experiencing a revival as a mobile, multifunctional piece of furniture in various designs and sizes. It can be quickly pushed somewhere and serves as a bar, a table, a workplace or simply as an additional mobile storage space.
Upcycling – Those who want to live modern and environmentally friendly swear by upcycling. Meant are own old furniture, which are brought back to shape. Furniture and accessories in vintage style from flea markets are very popular and are deliberately placed in a modern environment. Redesign and fresh colors breathe new life and utility into old "treasures". Good for coziness and the environment.
Marble – Marble was already in 2022, now the stone comes in strong colors. Pink, deep green or blue are the current colors. The application possibilities are varied. The marble shows up in wall coverings, as a work surface, as a side table and in many accessories.
Shapes, materials and colors – style mix with a lot of variety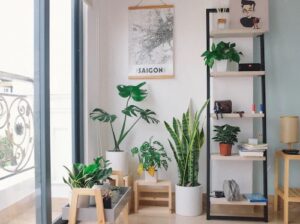 Japandi style – Here two worlds meet and work quite splendidly with each other: the "hyggelige" Scandinavian interior style and the reduced Japanese furnishing concept result in a tasteful whole. A living concept in warm natural tones, simple shapes, natural materials, discreet decoration and timeless pieces of furniture determine the picture. A style of living in which everyone feels at ease and comes to rest.
Naturalness and sustainability – Two of the most important trends in which wood plays an important role also fit the Japandi style. Wood has a homely and cozy effect and is on the rise. Not only in the kitchen, but also in functional rooms such as the hallway or bathroom. Especially light wood types are currently becoming more and more popular and are often combined with natural textiles such as linen or wool.
Green prospects – The trend is therefore clearly moving in the direction of nature, and the growing need for nature in one's own four walls fits in with this. The big comeback of houseplants, which were considered stuffy not long ago, is unstoppable. For example, houseplants increase the ability to concentrate, ensure a healthy room climate and dampen sound. Above all, however, they represent the widespread desire to live in harmony with nature, especially in urban metropolises.
Feel free to browse our website and find the ZEITQUARTIER that suits you and in which you feel comfortable.